Split Heat Pumps
Daikin heat pumps are ideal for heating or cooling one room or area of a home. Discreet wall-mounted and compact floor standing units are all part of the Daikin range.
Daikin heat pumps are 'Reverse Cycle' (Heating and Cooling) or for ultimate comfort our US7 system regulates temperature, ventilation as well as humidity levels allowing you to obtain ideal conditions all year round.
---

Daikin US7
Benefits:
'US7' is an abbreviation of its original product name in Japan, Ururu Sarara 7. The English translation of 'Ururu Sarara' refers both to the humidification and dehumidification functions that distinguish this heat pump from every other. Packed with advanced technology that you'd expect from a Daikin, it's New Zealand's most energy efficient heat pump.
To enjoy a comfortable indoor climate, you need more than just a pleasant temperature. Precise adjustment of both the humidity level and ventilation in a room is also important, but until now this has not been available in conventional heat pumps.
The Daikin US7 heat pump system however, can not only heat or cool one room of a home but is also capable of humidifying, dehumidifying, ventilating, and purifying the indoor air. Built with energy efficient technology, it's the perfect solution for ideal living conditions all year round.
The Daikin US7 is the most energy efficient Heat Pump in New Zealand* with a 7-star 'super efficiency' rating using all new R32 refrigerant.
* 2.5kw model, as at 22/10/14 - visit www.energywise.govt.nz for details
Available in:
Reverse Cycle (Heating & Cooling)
---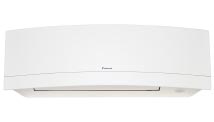 Daikin Zena
Benefits:
With a remarkable blend of iconic design and engineering excellence, the Daikin Zena is designed to impress. Engineered in Europe, with enabled Wi-Fi connection, the Daikin Zena is available in a silver finish or pure matte white finish.
The aerodynamic, curved front panel of the indoor unit is unique and contemporary in design. When operational, the front panel gently lifts upwards to allow conditioned air to be delivered into your room quietly and efficiently.
Available in:
Reverse Cycle (Heating & Cooling)
---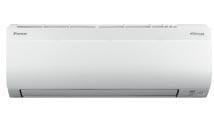 Daikin Cora
Benefits:
Daikin Cora Series wall mounted split system heat pumps are a natural choice for those wanting the comfort of a unit that blends unobtrusively with its surroundings. The same technology that makes the Daikin indoor unit so compact also makes it powerful, yet whisper quiet and energy efficient.
The aesthetic design of the units also has functional appeal. The smooth surface of the flat panel design can be wiped clean and the flat panel easily removed for more thorough cleaning. Daikin's air purifying filters and innovative air flow systems ensure that fresh, conditioned air flows to every corner of the room.
Daikin's new Cora Split System heat pumps also feature R32 refrigerant, New 2-Area Intelligent Eye*, Coanda Airflow technology* and 0.5°C Step precise temperature control* for optimal comfort and efficient operation and with optional Wi-Fi capability for remote operation.
*Only applicable to FTXM-QVMA models, New 2-Area intelligent eye applicable to 20-46 class only.
Available in:
Reverse Cycle (Heating & Cooling)
---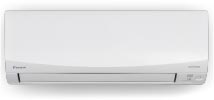 Daikin Standard Series
Benefits:
Ideal for those looking for a model that covers the essentials.
Daikin's New Standard Series offers reliable performance when heating or cooling your home. With all the essential features and a large range of capacities, there's one to keep you comfortable whether your space is big or small.
Available in:
Reverse Cycle (Heating & Cooling)
---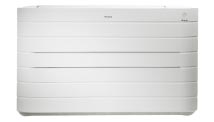 Daikin Nexura
Benefits:
Nexura is a floor standing heat pump engineered in Europe with a modern design that blends in seamlessly with your home's decor. It is quiet, discrete and features state-of-the-art heating technology.
Through the unique front radiant heat panel, Nexura is able to deliver that unique feeling of comfort similar to a traditional warm radiator.
Available in:
Reverse Cycle (Heating & Cooling)
---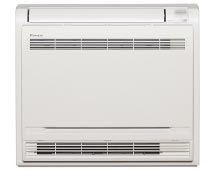 Daikin Floor Standing
Benefits:
Daikin's floor standing heat pumps are compact and ideal for anyone wanting the convenience and access of positioning their unit closer to the floor. They can even be semi-recessed into the wall or in an unused fireplace.
The units use either top, or top and bottom discharge vents to distribute air evenly throughout the room.
Available in:
Reverse Cycle (Heating & Cooling)
---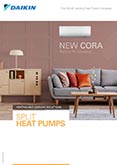 Download Brochure:

Download the Daikin Split Heat Pump Brochure

You need the program Adobe Acrobat or Adobe Acrobat Reader to open the documents.
The program Adobe Acrobat Reader is a freeware program and can be downloaded from www.adobe.com